---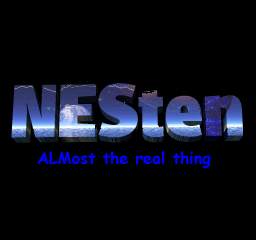 10th April 2003:
A few bugs have been found in iNES.DLL v1.3 (mapper 23 IRQs were not properly enabled, mapper 43 would not initialize properly). If you downloaded the DLL set within the first 2 days of it being released, please re-download them. Sources have also been updated.
Also note that there are bugs present in NESten 0.61 Beta 2, at least one of which affects Sprite 0 hit. If you notice a game with corrupted graphics or random crashes, try switching back to 0.61 Beta 1.
8th April 2003:
New mapper DLLs have been released for NESten. Go to the Mappers Page to download them.
Note that these will be the FINAL DLLs I will be releasing for NESten; if you want to add new mappers, feel free to download the sources and create your own new mappers (but don't include the old mappers).
The main reason I will no longer be writing mapper DLLs for NESten is that Nintendulator is no longer compatible with them (due to numerous interface changes), and I have no desire to maintain two sets of nearly identical mappers.

For those of you who still use NESten, a pre-release of version 0.61 Beta 2 has been floating around for a while. Download it here. Changes from 0.61 Beta 1 are currently unknown.

18th June 2002:
Since NESten is no longer being developed, check out Quietust's new NES emulator called Nintendulator.
Uses the same mapper DLLs as NESten 0.61 and features remarkably high emulation accuracy.
Games known to have timing issues (Marble Madness, Pirates!, Mother, etc.) should work nearly flawlessly.
WARNING: Minimum system requirements include a 600MHz or faster processor.
Windows 2000 or XP is recommended, though it will work under Windows 98/Me (though it will not remember your ROM folder).

If you find any bugs or have any features to request, please post them in the appropriate tracker on SourceForge.

Download binary
Download sources

24th February 2002:
Mappers have been updated. Go get 'em! Mappers Page.
6th April 2001:
kaillera is implemented and working... Some minor changes is needed from the kaillera author to ensure that users of NESten avoid some of the problems I am having right now... (NESten doesn't work the same way as MAME)
Synchronization seems to be perfect, and I must admit that the kaillera author has done a very nice job. Up to 4 players is supported... 4 Player RC Pro AM 2 anyone? :)
27th March 2001:
kaillera?
5th March 2001:
Quietust has done a little update on the mappers. Mappers Page.
11th February 2001:
NESten 0.61 Beta 1

Just a little hint... PLEASE delete or move the old version before installing the new one, or you will have a lot of errormessages... Either delete old, or install to a new directory!!! Thanks :)

Hi again, it's been a while since last release, but waiting never hurts :)


I would like thank all of you who never believed a new version would come out, you kept me going. Oh yeah, those of you who wanted a new version, thanks to you too :)

Since mappers have become external (since NESten 0.6 Beta D), you can now expect a regular update for them only, without having to download a new version of NESten. The new updated mappers will reside on the Mappers Page. This page will be managed & updated by Quietust. (New games supported and so will be on that page)

And as always, here is what's new:

First of all, I would like to thank Quietust for his work on the mappers. He has basically rewritten, organized, debugged and verified a lot of the mappers. So a lot of games will have much better support. Visit the NESten homepage to look for updated mappers. At the same time, I must mention kevtris, who has reverse engineered a lot of new mappers, and has supplied Quietust with a lot of accurate info making the games work perfectly. Without Quietust & kevtris pushing me, this new release would probably not be made.
Mapper interface has been changed totally to be more true to how the NES actually works. An updated SDK will follow.
Added UNIF format support. Many new roms will be dumped only in this format since the iNES format only allows a 8 bit mapper number assignment (max 256 different cart types). UNIF does not share this limit. A big thanks to Repulse for creating the format.
Added FDS support. This basically means you can play FDS games. For those of us that don't understand japanese, a game is most likely waiting for you to eject a disk, and insert another one, if it just pauses with some weird charachters. That means, you have to enter the menu, and press eject, then enter menu again, and insert the disk side you think it's requesting :)
Added external rendering plugins. What this basically means, is that you can make your own plugin with your own special effects. My default Vid_DirectX.DLL is included with this version, hopefully new plugins will be available via the NESten main page at a later time.
Made timing more accurate, but I have not updated both cores to use the new timing, so only the interpretive core is in use.
A lot of weird things have been fixed too, hope no one noticed these weird things ;)
A problem with DirectSound not being released (IE, Sound in old DOS programs got lost) should be fixed. - Well, fire it up and see if anything else has changed :)
6th February 2001:
- Lots of new Mappers supported....
- UNIF Support
- Partial FDS Support
- Fixed a bug where sound did not get "released".
- Some speed gains, some losses.
- Small bug fixes here & there.
Written in Delphi 3.0, using DirectX header for Delphi by Eric Unger. Uses DirectX.
Windowed mode in 16bpp, 24bpp and 32bpp.
Pretty good speed in most cases.
P2 with a decent video card recommended for best gameplay..
Works under Win9x and Win2K.
Mappers
Save states, SRAM support, Movie states.
Supports 4 players.
Fast scanline based renderer, accurate PPU.
Emulates all NES sound channels.

Other NES emulators can be found here.
Though I recommend:
... don't wait ... visit
ZD's NSF archive
and
ZD's SPC archive
All design (except logo) by TNSe (c) 2000
(SO DONT BLAME ANYONE ELSE FOR IT!!!)


Please support BSA. Give them some work to do!